The Winnipeg Satelites held their annual awards dinner Saturday night at Alfie's Restaurant
and handed out their annual player awards as well as saying thank you to their four graduating
players. Presenting the awards were Satelites head coach Taylor Lemon and assistant coach
Gary Duszak.
Kyle Collins was awarded the Satelites leading scorer award after leading the Satelites with
30 goals and 38 assists for 68 points, good for second overall in league scoring.
Scott Douglas was awarded the Satelites 2014-2015 Rookie of the Year award. After a successful high
school career with the Kelvin Clippers of the WHSHL Scott was invited to camps in the USHL, from there he
went to the NAHL and made the roster of the Wichita Falls Wildcats. After 14 games injuries cut short his junior
career and after a year and a half off he came to the Satelites for the 2014-15 season where he rediscovered his
love for the game.
The Satelites next award was the Hardest Working Player award and it was shared by Derek Ramage
and Bryan MacKenzie. These two players never took a shift off, it was a 100% effort every shift of every
game from the start of the season to the end.
The Satelites next award went to second year player Ben Ingimundson. The "For The Boys" award goes
to the Satelites player who demonstrates "outstanding commitment and dedication to the hockey club".
The Satelites Coach's Choice award was shared this year by two Satelites, Kevin Haines and Sean Murray.
This award goes to the player or players who the coaches feel they can send out in any pressure situation and
succeed.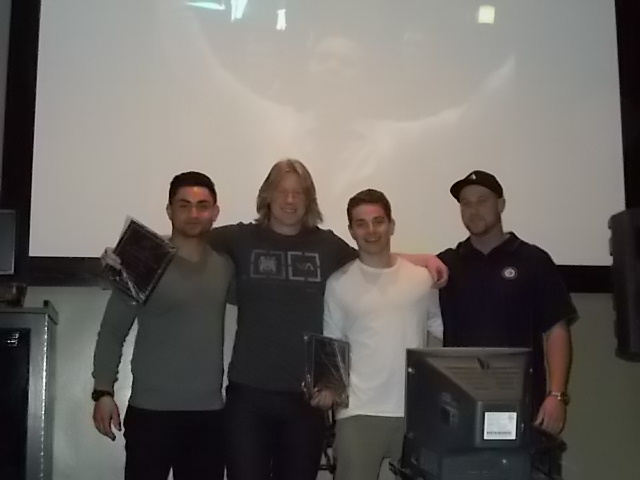 The Satelites Playoff MVP Award this season again went to starting goaltender Marc Hildebrand. Marc's tenacity
between the pipes gave the Satelites a chance every chance to win in the playoffs as we were in every game till the
end.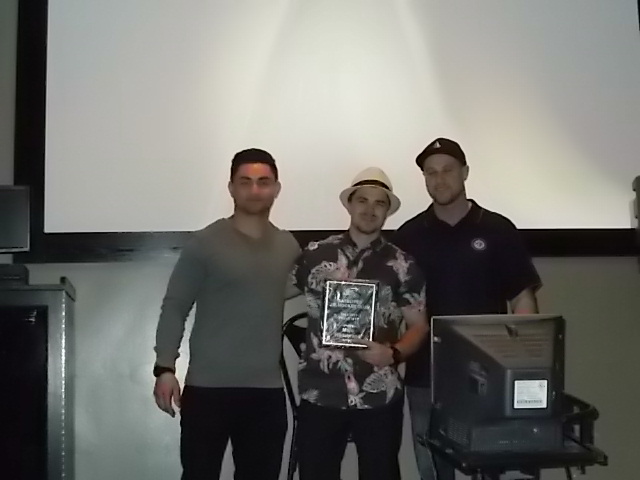 The Satelites Regular Season MVP award this year went to leading scorer Kyle Collins. Kyle played in all 32
games for the Satelites this season and even when he wasn't putting points on the board he was a major factor
in the Satelites success this season.
And lastly, the toughest part of any season is saying goodbye to your graduating players. This
season Vinny Carriere, Jason Campbell, Kevin Haines and Kyle Collins all played their last games
as Satelites. They all played 3 great seasons with the Satelites and played an important role in who
we were as a team on and off the ice. We wish them well on all their future endeavors.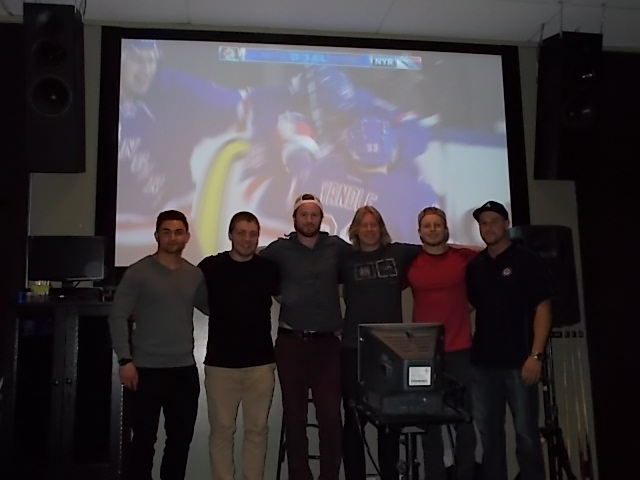 | | | |
| --- | --- | --- |
| | | |
| | | |
| | | |